24 Educators Complete Howard University's Urban Superintendents Academy
February 14, 2019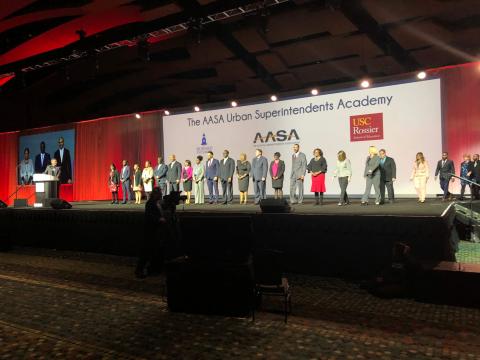 On February 14, 2019, twenty-four educators were recognized in Los Angeles, CA at the National Conference of AASA, The School Superintendents Association, for completing Howard University's Urban Superintendents Academy.
The Urban Superintendents Academy, the brainchild of Dr. Joe Hairston, associate professor in the Department of Educational Leadership and Policy Studies, was developed in response to the need to diversify the executive leadership workforce. As a result, Howard University partnered with AASA, in 2015, to offer one of the country's premier executive leadership development opportunities for current and prospective urban school superintendents. Hairston, a very successful "retired" superintendent, who remains heavily involved with the Urban Superintendents Academy, forged partnerships across the country to establish the Urban Superintendents Academy and often hand picks current and retired superintendents to serve as mentors to the program participants. Hairston notes that he is guided by an uncompromising concept that "a society that neglects its children is a decaying society".
The Urban Superintendents Academy offers a revolutionary approach to increase the supply of job-ready candidates of color to match the rapidly changing demographics in American schools and urban settings. The Academy provides a coordinated sequence of executive leadership and field experience modules, such as strategic thinking and planning, critical issues facing the urban superintendency, governing board and public relations, and social justice leadership over a nine-month period.
Drawing on the strengths of its partners, The Academy brings together Howard University's deep and historical commitment to academic excellence with some of the country's most effective and inspiring thought leaders and practitioners to serve as instructors, mentors, and presenters. In addition to monthly sessions, participants are required to attend The Academy's annual conference and complete capstone projects that address local problems of practice in ways that meet professional standards set forth by the Educational Leadership Constituent Council and the National Policy Board for Educational Administration.
Since its inception, 74 participants have completed the program. In four short years, The Academy has helped to produce 7 Superintendents, 2 Assistant/Deputy Superintendents, and a host of central office leaders. Program completers are serving as Superintendents in districts across the country such as Allentown School District (Allentown, PA), Franklin City Public Schools (Franklin, VA), Hickman Mills C-1 School District (Kansas City, MO), Milford School District (Milford, NH), Pittsburgh Public Schools (Pittsburgh, PA), Southampton County Public Schools (Courtland, VA), and Washoe County School District (Reno, NV).
The next cohort will begin in August 2019. For more information, please visit http://aasa.org/urbansuperintendent.aspx.
Categories