Dr. Cristobal Rodriguez Provides Expert Testimony in Landmark Education Equity Case
June 20, 2018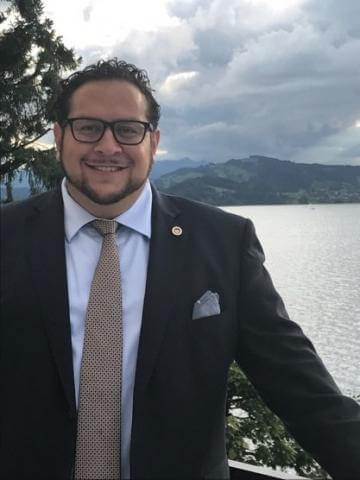 In 2018, the school finance case of Martínez v. State of New Mexico was decided on behalf of Latino, Indigenous, Black, and Poor families in New Mexico, citing that the State of New Mexico had failed them with underfunding and bad policies that contributed to inequities.
The case, filed by the Mexican American Legal Defense and Education Fund (MALDEF) on behalf of more than 50 students and family members from seven public school districts across New Mexico, argued that the state of New Mexico was not providing a sufficient education for New Mexico's students. The plaintiffs argued that the issue is more complex that simply increasing the amount of money allocated per-pupil across its 89 school districts.
Dr. Cristóbal Rodríguez, associate professor in the Department of Educational Leadership and Policy Studies, providing the expert report and testimony on achievement in New Mexico and the focus school districts to demonstrate the inequities that families in New Mexico and the focus school districts face.
After hearing testimony and reviewing evidence, Judge Sarah Singleton ruled that New Mexico was violating the constitutional rights of at-risk students by failing to provide them with a sufficient education. The Albuquerque Journal,  a called it a "blistering, landmark decision", noting that Judge Singleton "ordered the governor and Legislature to establish a funding system that meets constitutional requirements" by April 15, 2019.
When the case was filed in October of 2014, the Association of Mexican American Educators Journal  noted that Judge Singleton rejected New Mexico's Public Education Department's motion to dismiss this case and "used the opportunity to declare public education a fundamental right in New Mexico."
The Wall Street Journal noted that this case is similar to other challenges to education systems in Michigan and Kansas. Being a huge advocate of using research to inform the legal process, Dr. Rodríguez indicated that he was glad to be chosen to provide expert an export report and testimony. After being deposed to see to see if he would be selected to provide testimony, Dr. Rodríguez was informed by some of the attorneys that other leading scholars are not often called to the witness stand because of poor performances during depositions. When sharing this story, Dr. Rodríguez chuckled and said that "he was blessed that the lawyers told him this after he was deposed."
During his testimony, Dr. Rodríguez was asked questions about the achievement disparities, for which he explained systemic inequities based on his research and having served and taught throughout New Mexico in Latino, Migrant, and Tribal communities.
Dr. Rodríguez believes that this case, along with many others, show the power of conducting meaningful research in ways that inform the underutilized legal process for education equity. Dr. Rodríguez concluded "At the end of the day, my career took me to policy research…having served in Black, Latino, Migrant, and Tribal communities and realizing that our children were being setup to fail by the educational system and bad policies, our research needs to inform advocacy efforts." Essentially, he argued "our fight was in the policy arena."
Categories