Who Are the Maroons and What Can We Learn from Them
July 24, 2019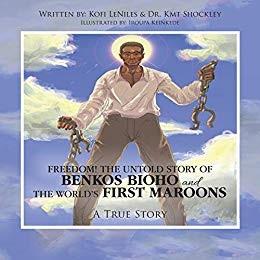 Many are fascinated by communities that maintain the core of their culture. Popular examples include Native American and Amish communities. However, little is known about African societies who have maintained their cultures outside of the African continent.
To shed light on this issue, Dr. Kmt Shockey, associate professor in the Department of Educational Leadership and Policy Studies (ELPS) and doctoral student, Kofi LeNiles (ELPS) recently released a documentary film entitled, For Humanity: Culture, Community and Maroonage, which describes the lesser known, but powerful history of Maroons. Maroons are African descendants of natives who escaped capture during the transatlantic slave trade to establish free societies.
The free societies were often established in thick, densely forested regions to enhance safety from threats. If you are a fan of Marvel's Luke Cage, you can find a sensationalized version of Maroons and the respect that they garnered as one of the lead characters, a Jamaican native known as "Bushmaster", was taken to seek wholistic medical treatment. It was later revealed that Bushmaster developed his "independence" mentally based on historical knowledge of Maroons.
In reality, Shockley noted, "Maroons are one the world's greatest unknown treasures. Perhaps they represent the least culturally molested group of Africans on the planet as they were never colonized nor enslaved." Many may find it more shocking that these societies still exist!
The film provides a window into the history and current inner workings of the first Maroon village, Palenque San Basilio in Colombia, South America, founded in 1603, by Benkos Bioho. The video documents how the Maroons police themselves through elder councils, they have no homelessness, all children are cared and accounted for, and many other time-tested traditions.
Dr Shockley and Mr. LeNiles are quick to inform you that their intent is not to create a flood of tourists to Maroon communities. Instead they use film to describe the nuggets that can be learned from Maroons and incorporate these practices into current leadership models and societal practices.
To reach younger audiences, LeNiles and Shockley co-authored a children's book titled Freedom! The Untold Story of Benkos Bioho and the World's First Maroons: A True Story. LeNiles noted that "The book inspires young people, through storytelling, about a group of their ancestors who fought and won during a time when people of African descent were struggling to even stay alive."
The film has been featured in film festivals such as the Bronze Lens Film Festival (Atlanta, GA), the International Black Film Festival, the Syracuse Film Festival, and the University of Ghana Film Festival.  The film also recently aired on WHUT, Howard University Television, a PBS affiliate. For more information, visit https://vimeo.com/ondemand/maroonage.
Categories